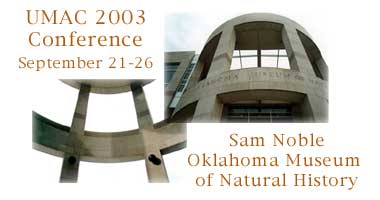 ---
Museum public programs in a university setting - what's the difference?
Jane Pickering
Assistant Director of Public Relations
Peabody Museum of Natural History
Yale University, US
Abstract
University museums have direct access to the faculty and students in their community. This is a huge resource for exhibitions and educational programs that is often not readily available to other types of museums. In particular it enables museums to produce innovative programs that focus on current scientific research, a part of the public understanding of science that is increasingly important both to the university itself and to society at large. While many large museums have developed expensive high-tech exhibition areas to tackle current scientific topics in a timely and interesting way, university museums can produce similarly effective, in-depth programs on a more limited budget. Case studies of a public events program, teacher training initiative and exhibition development at Yale and MIT illustrate how this resource can be tapped effectively and for the benefit of both the museum and the parent institution.
Text
University museums need to support their parent institution. And they need to balance their role as a resource to enhance the intellectual, social and cultural life on campus with a role as a "front door" for their institution. Their public programs, can, if properly conceived, fulfil both roles.
As a window both into and out of the university, the museum has much to offer both its own university community and the surrounding city and regional community. It is a place where the two can meet to the enrichment of both. For the university the well documented benefits include improvement of town-gown relationships (service to the local community is vital to developing local political and community support); helping to increase the public understanding and support of research; and providing educational experiences for the university community, particularly students. For the community there is access to considerable educational and cultural resources, and an opportunity to meet scientists and others who are behind discoveries that will affect their lives.
An important focus for university science museums is interpreting current research at their institution and at the museum itself. However tackling current scientific research is difficult. Large independent museums have devoted huge resources to this task e.g. the Current Science and Technology Center at Boston's Museum of Science cost over $1M to build, employs nine staff, and is supported by over 20 ongoing sponsors. However while university museums almost always don't have this type of support they do have access to a huge resource that extends far beyond the boundaries of the Museum itself - their direct access to students and faculty who are often willing to work with their own institution's museum. This enables them to develop programs that are unique both in content and delivery.
However utilizing this resource effectively does require careful thought and planning. People with time, enthusiasm and a natural ability to engage non-academic audiences are rare. The museum must encourage enthusiasm, work around people's time constraints and 'train' people to interpret their research. In this spirit I want to discuss three programs briefly - two from the MIT Museum and one from the Yale Peabody Museum. Each illustrates a different way to involve the university community in Museum public programs to provide a unique experience for the public.
Case Studies:
1. Robots and Beyond: Exploring Artificial Intelligence at MIT
This project enabled the Museum to work with scientists who would not normally dream of curating an exhibit. In November 2000 the Museum opened an exhibition on artificial intelligence at MIT that traces the evolution of the field and the leadership role MIT played within it; presents current AI research (mostly from MIT); and illustrates current and planned applications for these technologies. For example one exhibit enables visitors to become part of departmental research on intelligent voice recognition.
The involvement of the scientists was carefully planned. I (as Museum Director) had an initial meeting with the head of the department to gain his full support. We then ran two brainstorming/informational meetings with invitations to the entire department, which also self-selected some of the team. The exhibit planning team comprised two faculty, one senior research scientist and two graduate students (in addition to museum staff). They met over a three-month period biweekly (again at lunchtime!). After these regular meetings hammered out the basic concept and content, the museum wrote label copy, worked with designers etc. The scientists tended to focus on their individual areas of expertise working one-on-one with the exhibition staff. Finally there was a flurry of activity around the opening and then the department continued to be involved in ongoing educational programming.
This exhibition was a huge success from all perspectives:
Audience: Evaluation showed a high rate of satisfaction with the exhibition.
Museum: Exhibition was important to the mission, increased attendance by 50%, and resulted in lots of positive PR within the university.
Department: Exhibition explained their research to a broad audience, provided a measurable way of seeing how their work was of interest to the public, gave students a positive learning experience, and provided lots of positive PR in the community.
We also learned a number of lessons from the experience:
It is vital to ensure the basic criteria for 'successful' museum exhibitions are in place e.g. audience interest, strong relationship to mission etc.
It is important to find faculty who were interested in, and have some experience of dealing with a non-academic audience, and to accept there will be changes in personnel over time.
It is necessary to find a mechanism by which the faculty can take part even though they are very busy. Also to be aware of the academic calendar - meetings around exam time are not a good idea.
It is crucial to be honest about what the commitment will be. Most people have no idea what goes into making a museum exhibition.
It is important to decide at the beginning who is doing the fundraising and which donors can be approached - otherwise the Museum can be seen to be in competition with the department.
It is important to make sure that the scientists are aware of front-end and formative evaluation plans and accept the concept of visitor input into the exhibition content.
2. Family Adventures in Science & Technology (F.A.S.T. program)
FAST is an exciting, innovative series of programs created to introduce the many facets of MIT research and technology to the general public through meeting and talking with primary researchers. The programs target family audiences and are held once a month on Sunday afternoons. They led to a huge increase in attendance and quickly became the busiest days in the Museum's calendar. They also attract large repeat audiences. This program illustrates how a Museum can involve students who are not able or prepared for a long-term commitment to the Museum. Students are often not realistic about the amount of time they have to work/volunteer, which can lead to problems for the Museum. The FAST program enabled the Museum to capitalize on all their enthusiasm by providing a short-term in-depth commitment that they could manage.
The programs:
Are organized in collaboration with different departments ensuring the presentation of a new, fresh view of MIT each month.
Include a variety of different activities (e.g. discussion, films, hands-on experiments, and demonstrations of new equipment, technology and ideas).
Are delivered by MIT students and researchers. People like people and it is well documented that interpretation is much more effective when visitors can talk directly with students and researchers. They are the university's most engaging ambassadors, bringing an enthusiasm and passion for their work that becomes a wonderful mentoring experience for the audience.
Provide a valuable learning experience for students.
Examples included "Wearable Science" in which students from MIT's Media Lab presented research projects that were wearable computers. The Race of the Robots was organized in collaboration with an independent student group from Electrical Engineering and involved MIT student teams racing their own robots which they had designed and created in a MIT robotics course.
The most important person for the program is the FAST Coordinator who does the overall coordination and organization of the event. She contacts individuals, groups and departments at MIT and helps them design hands-on activities (usually with a take-home component), discusses the possible demonstrations, and trains the presenters. The job requires nerves of steel since there are usually lots of last-minute preparations and changes as students tend to work very close to the event itself - the culture of the "all-nighter" is very strong at MIT!
The benefits of the program included:
The broad content of the programs meant the Museum truly reflected the activities of MIT.
It provided a way of presenting cutting-edge research to the public - even if there was a discovery the day before the program it could be incorporated.
It enabled the museum to develop relationships around the campus. Many of the researchers and students who participate in FAST had never been to the Museum and were unaware of the Museum's mission. The program alerted them to other possibilities for collaboration with the Museum whether it was a joint grant to teach a particular subject, or an exciting possibility for a new exhibit.
The program model is sustainable over the long-term - its high visibility caused departments to proactively contact the Museum to take part.
The program is extremely adaptable - spin-offs can be used for other Museum events.
3. Peabody Fellows Biodiversity and Human Health Program
This in-depth teacher development program involving graduate students is demonstrably having an impact on the Peabody Museum's local public school district of New Haven. New Haven is a typical urban high school system with high enrollment of students of color, high dropout rates, and low performance in standardized tests. For the past six years, the Peabody Museum has formed a close partnership with NHPS (supported by a grant from the National Institutes of Health) to develop a rigorous professional development program for upper elementary and middle school teachers that would improve the quality of science teaching in grades 3 - 8. The Peabody Fellows Biodiversity and Human Health Program offers teachers professional development opportunities in science education using Museum resources. The program includes a summer institute followed by workshops through the year; the hosting of the Museum's mobile science unit, the BioAction Lab1 at the school for one month; and writing a curriculum unit to be used with the BioAction lab.
The scientific content of the program was centered around the theme of biological diversity and its relevance to and impact on human health. Although health issues are of great interest to the public, research scientists have been concerned about the general public's dissociation of human health and well being from environmental health. This is a big research area at Yale, for example the Yale Medical School operates the nation's largest research group on Lyme Disease, and the Yale Biospheric Institute Center for Microbial Diversity is a major center for research on how an understanding of microbial ecology, evolution and diversity addresses human health and ecological concerns.
Evaluation has shown that the program has been extremely successful. Pre- and post- measures administered to teachers and performance task assessment of students showed statistically significant improvements in general science literacy and specific knowledge of biodiversity and human health. However evaluation also showed that one of the areas that needed improvement, despite the involvement of faculty lecturers and program staff, was content support for teachers. In 2002 the Museum received an NSF grant to involve 5 graduate students each year for 3 years as content advisers for the program.
The students are from a variety of schools/departments including Anthropology, Forestry, Ecology & Evolutionary Biology, Genetics and Epidemiology & Public Health. The grant supports a stipend and their tuition costs. They assist with the summer institute, accompany the BioAction Lab to the classrooms, work in a one-on-one mentoring relationship with individual Fellows & provide content expertise to all Fellows. Teachers hailed the intensive classroom follow-up as a key to the Program's success. Evaluation has also shown that students are very interested in the program (there have been lots of applicants); enjoy the interaction with each other; feel they are learning valuable skills from the program staff and teachers (there is a training component in educational techniques etc.); have the opportunity to "give back" to the community; and love working with kids. In this instance there is a demonstrable "win-win" situation for both the graduate students and the program participants.
Conclusion
University museums tackle current scientific research with a different 'toolkit' than that available to most other museums. Their programs benefit from intensive involvement of active research scientists and they often take place in an active research environment. They can be developed quickly and be extremely flexible thereby including the latest information. The Museum can expand its programming into a variety of different academic areas, particularly through the involvement of students. These resources enable even relatively small university museums to serve their audiences in unique ways.
1 This resource was an educational tool created by the Museum to travel to local schools and facilitate hands-on, inquiry-based science. Currently it consists of ten mobile units housing a computer workstation, dissecting and compound microscopes, a video microscopy system, an incubator for sterile bacteria plating, and other laboratory accessories. At its core are approximately 350 hands-on Museum specimens, consisting of vertebrate skeletons, bird and mammal study skins, insect and plant samples.
---
© Jane Pickering 2003