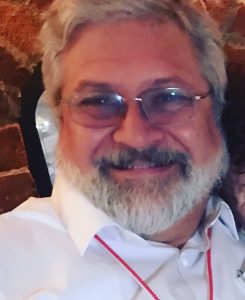 UMAC Board Elections 2019-2022
Candidate for:  Board Member

Dominick Verschelde

Ghent University Museum, BELGIUM
ICOM No. 70330 (Ghent University Museum)
Nominators: Andrew Simpson (Australia), Panu Nykänen (Finland)
  
Biographical note
Dominick Verschelde is a Master in Biological Sciences (taxonomy, phylogeny of marine nematodes). He wrote over 12 A1 articles describing new species. He is Zoology Collections Manager (1997), and Sciences Research and Educations Coordinator (2018) of the Ghent University Museum. Gives practical courses and lessons to students. Writes out and supervises bachelor and masters dissertations on science communication and research on collection objects. He truly believes that critical reasoning and the scientific method should be made available to everyone hence organizing workshops on the use of the senses, objective observations and critical reasoning. He is a co-founder of UMAC. Link to CV.
Qualifications for the position
As co-founder, I have been involved in UMAC from its early footsteps made in Paris (OECD Meeting) on the aspirations of Peter Stanbury, and have contributed actively in UMAC conferences on many occasions over the last 20 years. I have been the Zoology Collections Manager for over 22 years, and since two years I am also the Sciences Research and Educations Coordinator of the newly erected Ghent University Museum. As the chair of the UMAC Working Group on Teaching Tools, I realize how difficult it is to stimulate people to contribute to working groups, and hence would like to get the opportunity to contribute to UMAC from a board position, and so be able to serve the UMAC community more directly.
Main goals of candidacy
Many, if not all, collections house organic materials. We are not only looking at Natural History Collections, but any university collection (e.g. Ethnographic collections) with objects containing wool, feathers, wood, and any other substance of botanical or zoological origin. As wood beetles and museum beetles roam the world, and as more and more chemical agents are being prohibited, it is very difficult to protect such collections from harm or destruction. On top of these, natural history collections face even more safety hazards, as they house 'wet' collections containing either toxic formalin or flammable alcohol. There are many questions to be answered, problems to be solved, and people/collections to be helped.
UMAC could form a benchmark for storing and preserving natural history items or parts of objects in diverse collections. Gathering all possible information and ideas, plans and protocols already implemented, and combine these and hence provide safety measures and protocols, procedures, and specific building plans on how to safely preserve such university collection objects for prosperity.