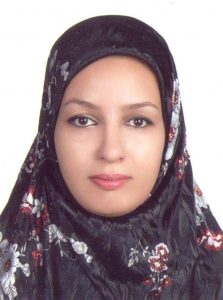 UMAC Board Elections 2019-2022
Candidate for:  Board Member

Fatemeh Ahmadi

Medical University Museum, University of Tehran, IRAN
ICOM No. 54232
Nominators: Lyndel King (USA), Tayeebeh Golnaz Golsabahi (Iran)
  
Biographical note
My name is Fatemeh Ahmadi. I was born in IRAN on 8th of June 1979. I finished my Bachelor in Museology (from Heritage Organization University of Iran) in 2002. I am working as a curator at the Iran National Museum of Medical Science History since 2003. Currently I am doing an after work study program for a Master of Art Research at Tehran University. Link to CV.
Qualifications for the position
My responsibilities in a University Museum:

Guide for visitors (English for foreign visitors and Farsi for my countrymen)
Making ID card, subtitle, and brochure for objects and exhibitions items in my museum.
Conserving objects (not exactly repairing them, but for example I should clean them and taking care of them for degree of cold or heat, and be careful if they need to professional conservation I should send them to laboratory
Preparing more than 20 temporary exhibitions with subject of medicine history (include: gathering objects, writing story for them and arranging them in showcases and holding opening ceremony for these exhibitions.
Currently arrangement of permanent exhibition in cause of my activity.
Having good connections with deans (old) physicians and holding exhibitions for them one by one and introducing them e.g.: first ophthalmologist, first surgeon, pathologist, and …
Gathering objects with historical medicine them around Iran

Writing more than some articles in Farhange Muze magazine (professional magazine about museums) about those museums that I have visited in around the world to Farsi language. Such as: Anastasia museum in Bonn, chocolate museum in Cologne, medical museum in Beijing, medical museum in Shanghai, fruit museum in Turin, medical museum in Paris …
Translation and publication some information of UMAC (leaflet, posters, statements, strategy plane and … to Farsi language)
Participation to ASPAC conference, in Shiraz, Iran, 2006
Participation to the ICOM General Conference in Shanghai, China, 2010
Abstract in XI Annual conference of the UMAC conference in Lisbon, Portugal, 2011
Participation to the ITC workshop in Beijing, China, April 2015
Participation to the UMAC conference in Manila, Philippines, 2016
Member of Editorship in Museums Professional Magazine (name: Farhange Muze) since 2014 up to now
More than 10 articles in Museums Professional Magazine (name: Farhange Muze) about UMAC (university museums and collection) and its goals and university museums in around the world to Farsi langue in IRAN since 2014 up to now
Participation to the ICOM General Conference, in Milan, Italy, 2016
Member of jury for choosing best museum in Iran since 2014 up to 2016
Member of board Iranian Museums Association
UMAC board member (2016-2019)
Main goals of candidacy
I am very eager to learn and to broaden my experience in UMAC and to use and consider the technology and knowledge back in my museum in Tehran and the other museums in my country in Iran and in Arab countries. I would like to be member of board in UMAC, which is highly recognized for international culture and with high technology for attracting visitors and work with professional curators for improving my knowledge and considering to history of universities.
We have a long history in Iran about university history. I always think museums in university museums and collection are the most successful in around the world. We can recognize even in number of museums with perfect quality in this website.
Actually I am curator and expert in medical university museum. I always use my potential with the other museums (visiting, holding workshop with them, exchange exhibitions). I have good connections to many curators in my country and I have a huge group of followers in social media (e.g. Instagram: @iranmuseums @farhange.muze and Telegram application) including more than 3000 curators. We call it: Iranian Museums Association. I have recognized we have around 30 university museums in Iran during these years. I have added 8 of them in our database and I am helping to remain of them for improving their standard for being member of UMAC database. I also have sent some emails to some Arab countries, but I understood they have just governmental museums and some private museums. So I couldn't find university museums in Arab countries. But I can continue this activity in future. 
I share all the time my information about ICOM and UMAC with followers in Instagram and Telegram and I also use their information. If I get the chance to be selected for board member as an ordinary member, I can present my extended knowledge about university museums in future. I would feel very much honored to be selected for UMAC members.