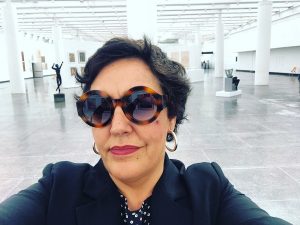 UMAC Board Elections 2019-2022
Candidate for: Chair
Marta C. Lourenço
Museums of the University of Lisbon, PORTUGAL
ICOM No. 30228
mclourenco@museus.ulisboa.pt
Nominators: Eric Dorfman (USA), Hugues Dreyssé (France)
Biographical note
Deputy Director, Researcher and Chief-Curator of the historical collections at the MUHNAC (Museums of the University of Lisbon), Marta C. Lourenço has background training in Physics (University of Lisbon), a Masters in Museology (Universidade Nova de Lisboa) and a PhD in Museology and History of Technology (CNAM, Paris). She teaches material culture of science at the Department of History and Philosophy of Science, Faculty of Sciences, University of Lisbon. In 2010-2011 and 2015-2016, she coordinated the surveys of the cultural heritage of the University of Lisbon, both published. She has published more than 50 papers and book chapters and edited or authored 11 books, mostly on the history of scientific collections, university museums and collections and scientific heritage. She is principal investigator of PRISC (Portuguese Research Infrastructure of Scientific Collections), included in the national roadmap of strategic research infrastructures. She was awarded the Vital Brazil Medal (2014) and the George Sarton Medal (University of Ghent) (2015) for her work promoting scientific collections and heritage. Link to CV.
Qualifications for the position
In general, I have assumed leadership positions in national and international organisations in recent years. I was in the Boards of ICOM-Portugal (2008-2014), Universeum – the European Academic Heritage Network (2010-2016), the History of Physics Group of the European Physical Society (2009-2016) and the Scientific Instrument Commission of the International Union for the History and Philosophy of Science (2013-2017). I have coordinated national and international projects in museum documentation, history of science and scientific collections. Specifically, in terms of university museums and collections, I been involved with them all my research, teaching and professional life. I have never worked in a museum outside a university. My PhD addressed university museums and collections in Europe. I attended my first UMAC General Assembly in Barcelona in 2001 and I was ex-officio Board member between 2001 and 2005.
During my first mandate as UMAC Chair, I think my greatest achievements were twofold.
On the one hand, internally, a new infrastructure was developed to update and project UMAC as a global organization within ICOM: a new website, more active social media, a more user-friendly UMAC World Database of University Museums and Collections, updated UMAC bylaws, new rules for the UMAC Award and Travel Grants, an updated mailing list UMAC-ML (2,800 subscribers) and corresponding privacy policy.
On the other hand, externally, more attention was given to empower UMAC members in their local contexts and give them a global voice: support to national networks (Mexico, Brazil, Greece, Poland, China, etc), more available resources and literature online, increased training offer, stimulating young professionals (UMAC Futures) and establishing formal and informal partnerships for specific meetings and projects (ICTOP, Association of Academic Museums and Galleries USA, Shanghai Jiao Tong University, University of Shanghai, Federal University of Minas Gerais, Universeum, University of Electronic Science and Technology of China, University Museum Association Kyoto, among others).
Several objectives, however, were not so successful during my first mandate. Given their importance, I highlight the following:
Africa: UMAC is still very little known in Africa and expanding our membership in African universities has been challenging.
UMAC is still very expensive (membership fees, conference fees) for most university museums and collections professionals around the world.
Membership database: although essential to increase UMAC's presence in the global higher education system, it has been more difficult than anticipated to have updated information about UMAC members in real time.
UMACJ: although the plan was to transform UMAC's journal UMACJ into an indexed journal, this was only partly achieved (the Editorial Board was renovated).
UMAC Archives: also only partly organized.
These objectives will continue to be pursued, if I am elected for a second mandate.
Main goals of candidacy
If elected, this will be my last mandate as UMAC Chair. I would like to focus on a) not completed objectives initiated during the first mandate; b) open new fronts; and c) consolidate UMAC's maturity and sustainability.
Develop first-mandate (not completed) objectives:
Membership expansion, particularly to Asia and Africa, coupled with more reliable information on members.
Find creative ways to make UMAC more accessible to more professionals (small, isolated, less rich museums and collections).
Explore the possibility of a research project regarding the contribution of university museums and collections to the 'third mission' of universities.
Transform UMACJ from a proceedings' journal to an indexed research journal.
Provide the UMAC community with stronger and more interconnected digital presence (both in terms of contents and tools).
Make the UMAC Award better known and even more prestigious.
Open new working fronts:
Ethics, particularly 'decolonization' of universities' museums and collections and the ethics surrounding medical collections – which I both see as a UMAC's responsibility within ICOM.
University collections: in universities, there will always be collections outside museums. A problematic specific to UMAC within ICOM, collections need to be granted the same statute as museums, particularly in terms of preservation and access.
Commemorate the 20th anniversary of UMAC – Sydney and Dresden – with a global program of activities celebrating university museums and collections across the world: their people, their collections, their communities, their past and their future.
Consolidate UMAC's maturity and sustainability:
Renovate the UMAC Board.
Have a more prominent voice in ICOM, on behalf of university museums and collections.
Create a Strategic Committee to address global strategic issues pertaining to the university museums and collections community.