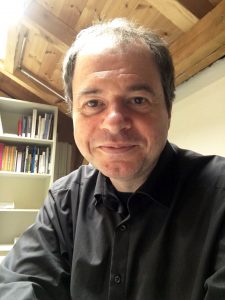 UMAC Board Elections 2019-2022
Candidate for:  Board Member

Martin Stricker

Coordination Centre for Scientific University Collections, GERMANY
ICOM No. 131433
Nominators: Marta C. Lourenço (Portugal), Delphine Issenmann (France)
 
Biographical note
Since 2004 consulting, strategic development, networking, workshops, talks, data modeling, vocabulary and web application development for university collections and academic heritage at Helmholtz-Zentrum für Kulturtechnik at Humboldt Universität zu Berlin (Coordination Centre für Scientific University Collections since 2012, 2004-2012 research projects Material Models in Teaching and Research and University Collections in Germany: Research on their Holdings and History).
Active member of UMAC (Website and Database consultant and webmaster), CIDOC (LIDO Terminology Group), Universeum – European Academic Heritage Network (Co-Chair Working Group Digital Initiatives), Society of University Collections in Germany.
Master of Arts in Cultural Anthropology, Russian Language and Literature, Film Studies. Link to CV.
Qualifications for the position
I am a founding member of the Coordination Centre for Scientific University Collections in Germany. We work in a small and agile team to develop university museums and collections as decentralized infrastructures for research, teaching and knowledge transfer/'Third Mission'.
My specialty is digitisation. I develop strategies for enhanced visibility and usability of university collections by means of information technology and the internet.
I have consulted with and I am consulting with numerous collections and digitisation projects. I organise workshops, conferences and I facilitate cooperations and networking. I am co-chair of the Working Group Digital Initiatives of the European Academic Heritage Network Universeum. I am also engaged in developing standards (e.g. LIDO) and shared infrastructures.
I am also engaged in developing and maintaining online resources for university museums and collections, e.g. the German collection portal. The UMAC website and worldwide database have been my technical responsibility for many years. I am very glad to have been supporting the UMAC community this way, and I will continue to do so with great pleasure.
Main goals of candidacy
My candidacy is closely connected to the candidacy of Marta Lourenço for a second term as UMAC chair. I fully support her candidacy and her objectives. I intend to support her in the realisation of her objectives in general and will provide her with my knowledge and experience in information technology and the internet.
My personal goal is to enhance the visibility of university museums and collections by digital means on the global and on the local level. Enhanced visibility also leads to better usability. My goal is to make collection objects digitally available, for researchers, students and the public. In this area I consider knowledge sharing and transfer between collections and other actors important elements for global development.
Additionally, I see the usage of digital tools and methods as a way to get younger generations engaged in UMAC and university museums and collections.