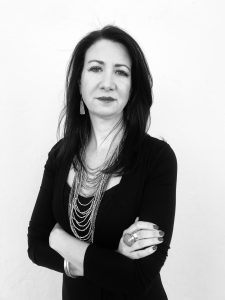 UMAC Board Elections 2019-2022
Candidate for:  Board Member

Nicole M. Crawford

University of Wyoming Art Museum, USA
ICOM No. 120519
Nominators: Marta C. Lourenço (Portugal), Darrell D. Jackson (USA)
 
Biographical note
Currently Assistant Director and Chief Curator, I joined the University of Wyoming Art Museum in 2009. I teach in the Museum Studies and Honors programs, including museum-based study abroad courses. My former positions include Vice President, Gerald Peters Gallery, Santa Fe, New Mexico; curatorial assistant, Sheldon Museum of Art, University of Nebraska; and academic intern, Philadelphia Museum of Art. My international projects include extensive work with cultural reconciliation through the display of objects in post-colonial/post-conflict societies. I hold a dual MA in Art History and Museum Studies and a BA in Art History from the University of Nebraska. Link to CV.
Qualifications for the position
As a first time candidate, I am honored to be considered for the position of Ordinary Board Member for the UMAC Board during the period of 2019-2022. I have over 20 years of progressive leadership in curatorial, arts and exhibition management, and museum organizational experience in the public and private art sectors, as well as a terminal degree in museum studies and an advanced degree in art history. As the Assistant Director and Chief Curator at the University of Wyoming Art Museum I am familiar with the policies and procedures of the museum as well as the larger university processes. Having worked at two university museums, in a variety of roles, I am able to draw on experience from both institutions for a better understanding of academic museums. I am a voting member on the board of directors for the Association of Academic Museums and Galleries (AAMG), which provides the support of a larger group of peers in similar academic museum settings in the United States.
Recognizing the global impact of museums, I have participated in international museum projects through general museum practices consultation, museum professional exchanges, public talks, new study abroad opportunities for students, and exhibitions. Specifically, my international projects include extensive work with cultural reconciliation through the display of objects and contemporary art in post-colonial/post-conflict societies, including Cambodia, Northern India and China. I have led museum-based study abroad courses for undergraduate and graduate students in Cambodia and Europe.
My current research project, "Stealing Culture: The Intersection of Criminal Law and Museums" is a unique collaboration between the UW College of Law and the UW Art Museum. My law colleague focuses on how criminal law can affect museums and associated parties and asks how can both disciplines work together to create positive change in their institutions, society and culture. As my part of the collaboration, I focus on how society disseminates value on culture and cultural objects and how that changes when placed within the walls of the museum, including human remains and burial artifacts. Together, we have initiated research to question: What happens when a museum finds artifacts in their collection that are likely the result of theft or looting? Who, from the acquiring museum, should be held accountable and, potentially, criminally charged? To answer these questions, we are implementing an inter-disciplinary research and analysis approach to consider the laws, ethics, and morality involved in museum collections. The research examines museum collections across the globe and the impact of collecting objects from both colonial and post-colonial perspectives. In addition to the research, we are co-teaching a senior seminar for the Honors College as well as a study abroad course in 2020 involving various locations in Europe.
Main goals of candidacy
Having served on the Board of the Association of Academic Museums and Galleries (AAMG) since 2015, I understand the importance of support for and from peers in similar academic situations. I am committed to the vision and support of such organizations for their members and would welcome the opportunity to serve on the UMAC Board.
I am honored to be supported for election by current UMAC Chair, Marta Lourenço. I support her mission to strengthen current projects such as: expanding UMAC, especially to Asia and Africa; increased discussion regarding the third mission; support and grow UMAC Futures through programs and new membership initiatives; reforming UMACJ to better serve our audiences; and create a stronger connection digitally for the UMAC community through content and working tools for university museums.
I am also committed to her new initiatives that include: creating and discussing ethical issues such decolonization of university collections (a particular subject that I can serve as a lead contact and content expert); celebrating and promoting the 20th anniversary of UMAC; stimulating new research in the field of museums; and encouraging micro activities at the local levels to support new engagement.