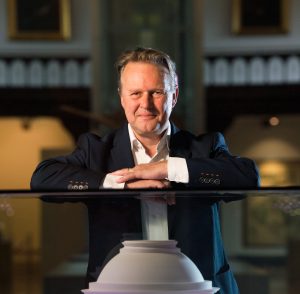 UMAC Board Elections 2019-2022
Candidate for: Vice-Chair
Steph Scholten

The Hunterian, University of Glasgow, UK
ICOM No. 35296
steph.scholten@glasgow.ac.uk
Nominators: Jacky Macbeath (UK), Wim Hupperetz (The Netherlands)
  
Biographical note
Steph Scholten (Dutch born in Amsterdam, The Netherlands, 1961) is Director of The Hunterian, University of Glasgow since August 2017, after 8 years in a similar role in Amsterdam. Previous experience (in The Netherlands since 1989): National Museum of Antiquities, Netherlands Institute for Cultural Heritage and the Ministry of Education, Culture and Science. Steph is a member of EthCom. Link to CV.
Qualifications for the position
I have 30 years of work experience in the heritage/museum sector, mostly in the Netherlands. I worked from 1997-2009 in positions where collections and research were very closely aligned between (national) institutions and universities (Netherlands Institute for Cultural Heritage, National Museum of Antiquities). From 2009-2017, I've headed the university museums at the University of Amsterdam and am currently employed in a similar role at The Hunterian at the University of Glasgow. I've been and still am an active and leading (board) member of national networks of university museums (SAE in The Netherlands, UMIS in Scotland) and an active member of both UNIVERSEUM and UMAC. I've (co-)organized two UNIVERSEUM conferences (Amsterdam/Utrecht 2016, Glasgow 2018) and have actively attributed to all other conferences which I have attended (most) through presentations, key notes, chairing sessions and/or organizing special events, such as the 2016 UMAC/NAtHist session in Turin, during the tri-annual ICOM conference in Milan. A am currently a member of EthCom, ICOM's standing committee on museum ethics. I have a very wide range of experience as a board member of a wide range of relevant organizations (see CV) and have worked extensively internationally.
Main goals of candidacy
This is the first time I stand candidate for the UMAC board and it would be my main ambition to:
Expand membership in underrepresented regions of the world, especially Africa and Asia.
Strengthen the professional UMAC network through enhanced analogue (training and other workshops) and online resources (database, UMACJ, other).
Strengthen UMAC's position within ICOM, through collaborations with other international committees and a strong and mature internal governance.
Research the possibility of partnering university museums, so that a system of support within the sector, preferentially beneficial to all partners involved, can develop.
Initiate a network of university museums that are on either side of the colonial divide, working collaboratively and constructively on 'decolonizing' university museum collections.
Follow up on the ethical questions raised around medical collections in universities.