Travel Grant Programme
UMAC has its annual conferences anywhere in the world, and although we make an effort to keep the costs low, we know our conferences can be expensive.
In 2016, UMAC created a Travel Grant Programme aimed at increasing participation in UMAC annual conferences. Typically, UMAC grants are small (c. 400 EUR) and aim at complementing travel and accommodation costs.
ICOM also has a long-standing travel grant programme for participation of young ICOM members (35 years or younger) in International Committees Annual Conferences. The amount of the ICOM grant to UMAC 2018 in Miami is 1,200 EUR, also for travel and accommodation costs.
Therefore, there are two funding channels to complement your participation in UMAC 2018, Miami. Please see eligibility, criteria, and submission forms below.
Eligibility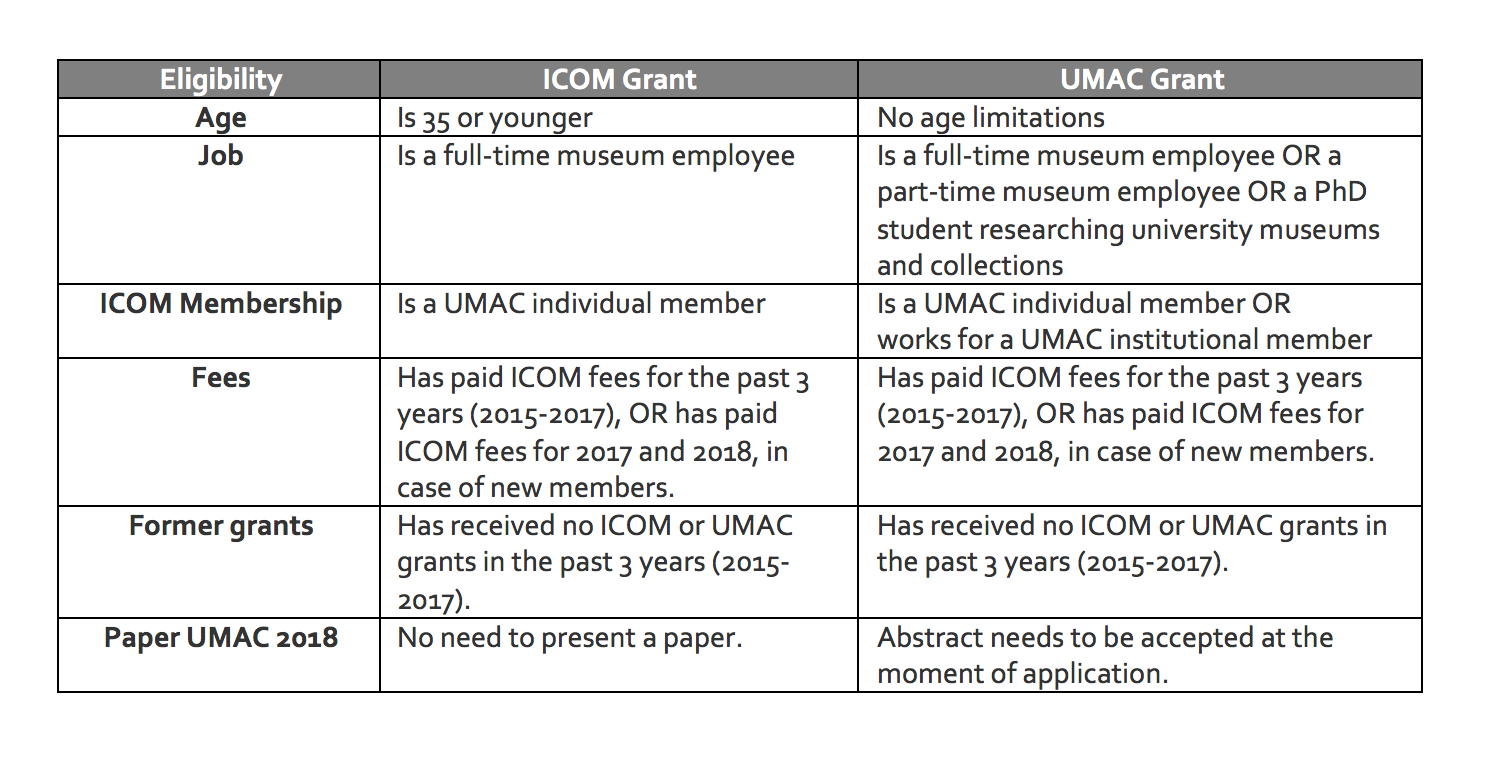 Note: UMAC Board members cannot apply.
Selection Criteria
All awards are made through a competitive process, and are based on demonstrated financial need and merit.
In the case of the ICOM Young Members Grants, preference will be given to candidates from countries belonging to Categories 4, 3 and 2 ( Where are they?).
In the case of UMAC General Grants, preference will be given to candidates from UMAC strategic geopolitical regions (Africa, Asia, the Americas and the Middle East).
Use of Grants
The grant should be used for travel and accommodation costs only. 
Grant recipients who have claimed funds in advance but do not attend the proposed event will be required to repay the grant in full.
Grant recipients may be asked to assist the conference organisers during the conference; information on specific expectations will be communicated after the selection process is complete.
The support of ICOM and UMAC should be acknowledged in the presentation. Get the ICOM and UMAC logos here.
Submission
Applicants are invited to submit the following documentation:
Online submission form (please see below)
Current Curriculum Vitae, indicating training, work experience, publications, as well as current work responsibilities within your institution (max. 2 pages)
Copy of your passport, including required travel visas (if applicable)
500 word motivation letter for attending the annual conference, justifying the need and how attendance will benefit your career goals
Letter of support from the Chair of your National Committee (ICOM Grant only)
Letter of support from your PhD supervisor (if applicable)
Letter of support from the Director of your institution, in case you are applying with a UMAC Institutional Member (UMAC Grant only)
Incomplete applications will not be accepted.
Deadline
The call for ICOM and UMAC grants for UMAC 2018 (University of Miami, Florida, USA) is now closed.
Questions?
Barbara Rothermel, UMAC Vice-President, Coordinator of the UMAC Travel Grant Program
rothermel@lynchburg.edu