22nd Annual General Meeting
19 September 2022, 12 PM (London, Lisbon, Dublin)
The 22nd AGM will be held online via Zoom and broadcasted live via YouTube. Only UMAC members in good standing can enter the Zoom session and vote.
The link will be provided individually, closer to the date. Instructions to vote in the new Board Elections, which will happen during the AGM, will also be provided to members on Monday. There will be no proxy votes.
UMAC members in good standing are ICOM members who a) have selected UMAC as their first committee of choice AND b) have paid the 2022 annual fees. Subscription to the mailing list UMAC-ML does not necessarily mean UMAC membership. If you are unsure of your UMAC status, please write Secretary Wenjia Qiu secretary(at)umac.icom.museum.
Documents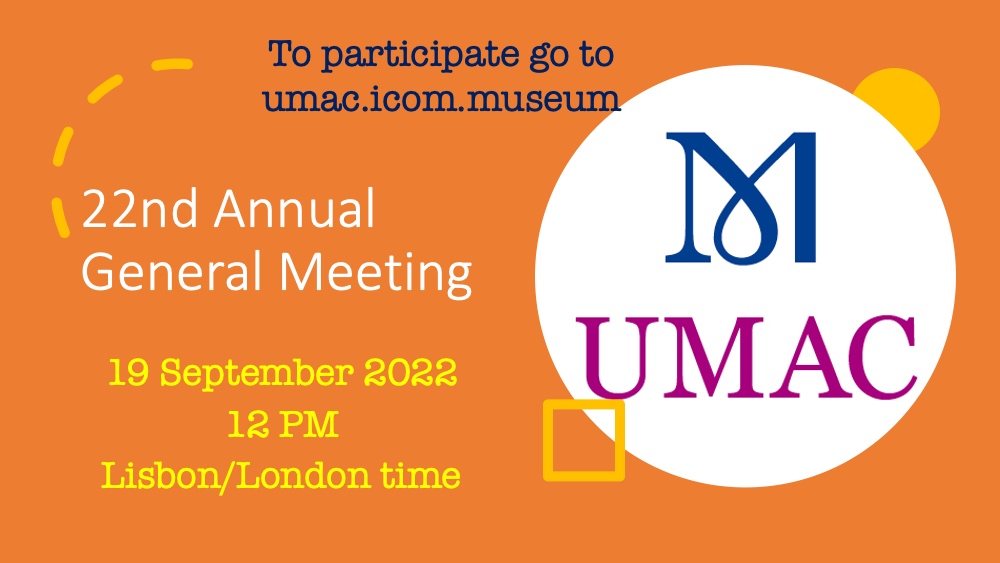 21st Annual General Meeting
3 September 2021 (virtual meeting)
Documents
Watch the 21st AGM on You Tube 
---
20th Annual General Meeting
27 July 2020 (virtual meeting)
Watch the 20th AGM on You Tube 
---
19th Annual General Meeting
Kyoto, 3 September 2019
Minutes of the 18th Annual Meeting, 23.06.2018, Miami
President's Report (July 2018-July 2019)
---
18th Annual General Meeting
Miami, 23 June 2018
Minutes of the 17th Annual Meeting, 6.9.2017, Helsinki
President's Report (Sept. 2017-June 2018)