Opuscula Musealia, an international journal established in 1986 by the Museum of the Jagiellonian University in Krakow, Poland, is inviting submissions of manuscripts for an upcoming issue, devoted to museum collections. Articles are welcome on (although not exclusively):
  –   history of collecting and collections
  –   historical and modern collecting practices
  –   forgotten or lost collections
  –   intangible collections and how to present them
  –   collecting as a social phenomenon.
   –  collections display in museum (e.g. how to modernize them)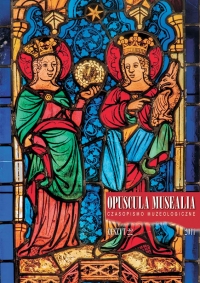 Opuscula Musealia is an open journal that publishes high-quality articles preferably in English, Polish (German and French are also possible) in all areas of:
museology
art history
scientific instruments and history of science
history of universities
archeology
artefact studies
restoration science
management and curation
law issues concerning museums
Deadline: March 31st 2019
Submit your manuscript(s) to Maria Natalia Gajek, curator and editorial secretary: opuscula.musealia@uj.edu.pl
Read more here.
Jagiellonian University Museum Collegium Maius