On Friday, September 29, at the Leading Culture Destinations Awards event in London, the Davis Museum at Wellesley College won the Best Soft Power Cultural Activation Award. The honor recognizes the ingenuity and global impact of ART-LESS: the Davis Without Immigrants, an initiative, and intervention launched by the Davis Museum in February 2017.
ART-LESS responded to President Trump's first executive order on immigration, issued on January 27, 2017—a proposed "Muslim ban" on entry to the United States that left many feeling alarmed, threatened, and frightened. The goal of the ART-LESS initiative was to demonstrate the critical role that immigrants to the United States have played in the arts, via both their creative contributions as artists and their philanthropic roles as museum donors. It also articulated the Museum as a public space for critical discourse on matters of national importance.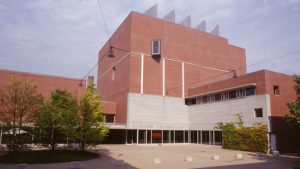 Dr. Claire Whitner, Assistant Director of Curatorial Affairs and Senior Curator of Collections, says "the Davis puts cultural pluralism at the heart of our mission; to take that seriously means to create programming that emphasizes that value and defends it when threatened."
During this six-day event, which encompassed the American "Presidents' Day" holiday, the Davis Museum de-installed or shrouded all works of art in its permanent collections galleries that were either created by or given to Wellesley's art collection by immigrants to the United States. Approximately 120 works of art—roughly 20 percent of the objects on view in the Museum's permanent collections galleries—were either taken down or covered in heavy black cloth. Signage was posted next to each affected piece to indicate "Made by an Immigrant" or "Given by an Immigrant." The concept and its impact were dramatic, particularly in light of a sluggish response among most American museums. The initiative garnered extensive international media coverage.
"I believe that museums can be important political spaces," said Lisa Fischman, the Ruth Gordon Shapiro '37 Director of the Davis," for generating discourse, social engagement, and smart activism. Through actions like ART-LESS, the Davis takes a stance on contemporary issues, modeling social activism and political integrity for students—for the next generation—and for the larger community. Particularly at this moment in the nation's history, it is extremely important to demonstrate the impact of immigrants—past, present, and future—on American cultural life. ART-LESS posed an invitation: taking the Davis as a microcosm, one might extrapolate out and consider the tremendous impact of immigrants on the nation as a whole."